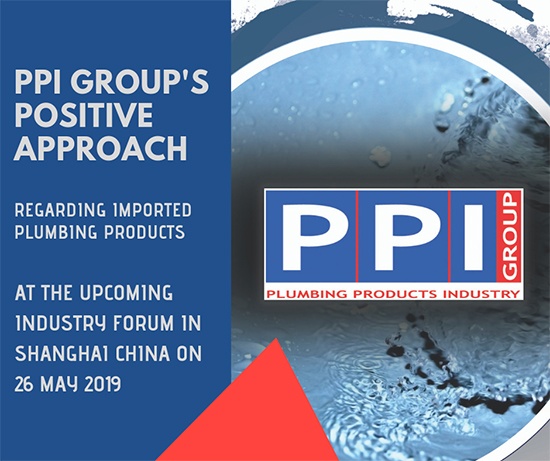 The PPI Group General Meeting and Industry Forum will be held on 26 May 2019 at Neoperl's new Shanghai offices. It will start with the PPI Group meeting in the morning from 10am to 12noon, followed by a lunch. The Industry Forum will commence at 1pm.
The following quest speakers will present at the forum:
Overview of the PPI Group and the Australian plumbing sector presented by Stuart Henry, Executive Director PPI Group.
Standards Australia presentation on Australian Standards and standards development requirements for the Australian market, presented by Daniel Chidgey, Head of Stakeholder Engagement, Standards Australia
Australian Building Codes Board, power point presentation on WaterMark Certification Scheme requirements for plumbing products in Australia plus Plumbing Code of Australia, presented by Stuart Henry
Dr Carol Grossman, from WELS, Department of Agriculture and Water, Australian Government will address WELS requirements for plumbing products to be sold and marketed in Australia
IAPMO & SAI Global will detail the process and testing requirements to gain WaterMark Certification for Plumbing Products in the Australian market
Neoperl to provide presentations on new innovative products for the plumbing industry
As hosts, Neoperl will be inviting Chinese manufacturers to attend.
There will be dinner arranged afterwards, with excellent network opportunities, being held at the DongHu Hotel near the Neoperl offices.
For more information contact Mr Stuart Henry.
View all News